Main Post
Banking anytime. Banking anywhere.
With E-Banking Services you decide how and where to do your banking.
---
Internet Banking
Put your finances in the palm of your hand-Download our Mobile App today!

It's the Smart Approach to Banking
Inquire on account balances
View recent transactions
Transfer money between your accounts
Deposit checks remotely (with the Mobile App)
Pay Bills (Once you set up Bill Pay within Internet Banking)
Manage your Debit Card
And more…..
---
ENROLL IN ONLINE BANKING NOW!
Simply click the Enroll link at the Online Banking Login display at the top of the page.
You will then be prompted to enter some basic information including name, email, SSN, phone number and account number(s). If interested, you can also request that bill pay be added to an account(s) at this time.
***You must open and review terms and conditions before clicking submit. ***
You'll receive an email from info@bankofthebluegrass.com and a follow up email from a bank employee with further instructions on how to complete the enrollment process.
---
To download your free mobile app, visit the App Store or Google Play.
Access to My Money, an online Personal Financial Management Tool provided free to Internet Banking Customers.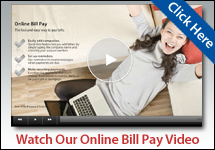 ---
E-Statements and E-Notices delivered through www.csiesafe.com
Go Paperless!
Online Banking Statements are available to Online Banking users. Simply enroll the desired accounts using the statement tab within Online Banking. Your statement history will build upon your enrollment, accumulating up to 12 months of history. If desired, print or save to your computer for easy access.
An alternative to Online Banking Statements is to request E-statements to be delivered through csiesafe.com, a secure website. Sign up for E-Notices and your account notifications will also be delivered through csiesafe.com.
---
Check Cards & EFT Transfers
We offer Check Cards that may be used for purchases anywhere MasterCard is accepted, request cash back at a Point of Sale or used for ATM withdrawals.
We are part of the Allpoint ATM Network, which means our clients have access to over 55,000 surcharge-free ATMs worldwide. Allpoint ATMs are conveniently located in many retail locations such as Costco Wholesale, Kroger, Target, CVS Pharmacy, Walgreens, Speedway and more. Download the Allpoint Locator App or visit Allpointnetwork.com to find an Allpoint ATM near you.
Allpoint for Android
Allpoint for iPhone/iPad
Allpoint for windows
Your transactions will be deducted from your checking account (or designated account) without the hassle of writing a check.
You can also use your Check Card to initiate EFT Transfers for payments, such as your utility payments.
When used with Swipe N Save, any purchases made with your check card can be rounded up to the nearest dollar, depositing the excess of the purchase into your Bank of the Bluegrass Savings Account.
If your Check Card is lost or stolen and it's after hours, please call this toll free number to cancel your card: 844-202-5333.
---
Card Sentry
We provide Card Sentry Risk Management on the Debit Card/Check Cards that we issue at no charge to you.
With Card Sentry:
We review cardholder activity for any unusual transactions.
If unusual activity is noticed, you will be contacted to verify the charges.
Our fraud analysts will never ask you for full card numbers, account information or social security numbers. They will merely ask to speak with the cardholder, identify the transaction(s) in question and ask you to confirm if they are valid or not.
Additionally, if you are going out of town on business or vacation and you notify us of your travel plans, we can monitor your card activity even while you travel.
We understand how important security is when it comes to your account information as well as your debit card/check card. In addition to your home telephone number, you may want to ensure we have updated work and cell phone numbers so that we can reach you promptly.
As always, if you have any concerns, contact us promptly at (859) 233-4500.
If you should discover your Debit Card/Check Card has been lost or stolen AFTER HOURS, please call 1-844-202-5333 toll free to cancel your card.
---
Direct Deposit & ACH
You are often able to sign up for Direct Deposit for Social Security Benefits, Pensions and Payroll type deposit.
We'll help you set that up or you can use the forms in our Switch Kit.
Many companies will also allow you to set up automatic deductions from your account for utility payments or other regular deductions.
Customer Service is eager to assist you in making your banking easy and convenient.